SAFSF WEBINAR
Harvesting Opportunity: 
The Power of Regional Food System Investments to Transform Communities 
August 24, 2017
12pm PT / 2pm CT / 3pm ET
60 minutes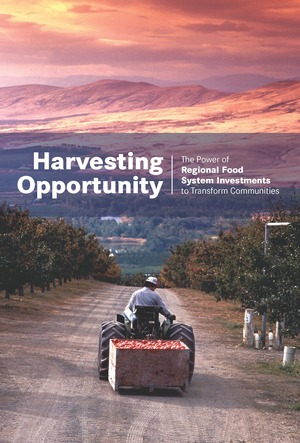 The Federal Reserve System and USDA have partnered to develop a book focused on the community and economic development opportunities of regional food system investments. Investments in regional food systems have demonstrated promise in both increasing the viability of food producers and expanding access to fresh, healthy food among consumers, as well as positively impacting regional economies. However, it is important for individual regional food organizations – and the regional food systems in which they operate – to be structured in a way that not only achieves the positive impacts that are being sought, but is also financially sustainable over time. Only then will these entities and systems be resilient enough to deliver positive impacts over the long-term. 
A critical element to supporting sustainable regional food system organizations is ensuring that they have the right capital at the right time, with "right capital" defined as the right type (debt, mezzanine, equity, grants) at the right rate for the right term for the entity's needs. The webinar will provide a general overview of the book and dive deeper with a few of the authors whose organizations work positively impacts the viability and sustainability of supply-side operations (from a financial, environmental, and social justice standpoint), as well as organizations' whose work focuses on improving consumer access to fresh, healthy food.
Moderator
Andrew Dumont, senior community development analyst, Federal Reserve Board
Presenters
Stacia Clinton, national program director, Healthy Food in Health Care Program, Health Care Without Harm
Kate Danaher, senior manager, Social Enterprise Lending and Intergrated Capital, RSF Social Finance
Lauren Gwin, community food systems specialist, Center for Small Farms & Community Food Systems, Niche Meat Processor Assistance Network, Oregon State University